What are the Best RGB Fans for PC building? My top choice without a doubt is either the Corsair ML-Series or QL Series (depending on your needs). But, keep reading to find out some other options!
Today I'll be exploring some of the best choices for RGB case fans. Thermaltake and Corsair are two competing companies that have been killing it in the RGB lighting space.
So, let's take a look at each, and see which you should be using for your next or current build!
What are the Best RGB Fans for PC Building?
Today we will be looking at the best RGB fans for PC building. In our opinion, the only 2 options are fans from Corsair and Thermaltake.
Over the past years, both companies have drastically pushed the RGB lighting craze. They have increased the quality of effects, designs and performance making some of the best custom computer case fans on the market.
Corsair VS Thermaltake
Corsair LL Series RGB Fans
We won't go super in-depth on the Corsair LL series fans because the Corsair QL series is newer. However, the LL series is a very good option if you're looking for something a little cheaper than the QL series.
Since the Corsair LL series LL120 fans have been out for a while, the price has naturally decreased. They are extremely similar to the QL series, except that they come included with the lighting Node Pro, have lower CFM (airflow), less LEDs per fan, and slightly lower brightness.
If you are seriously considering a premium RGB case fan, I would not look over the Corsair LL series RGB fans.
Corsair iCUE QL Series RGB Fan
Are the Corsair QL Series fans the best RGB fans for PC building?
Starting off with the Corsair QL series RGB fans. The QL120 Triple kit comes with 3 120mm fans and a compact iCUE lighting Node Core. You can also use the Corsair Commander Pro, but we'll go over the differences between the two later.
Features
The Corsair QL series fans are equipped with four lighting zones and 34 individually addressable RGB LEDs. The four lighting zones are split into front or back and hub or ring. The center hub and outer ring of the Corsair fans are illuminated on both sides meaning that no matter how they are mounted in your case, you will see the RGB lighting.
The RGB lighting is addressable, but is controlled through Corsair's software and not a 3V 5-pin motherboard header. Each individual LED can be controlled and customized.
The fans are controlled through either the iCU lighting Node Core hub, or Corsair Commander Pro. Both of these connect to your motherboard to a USB 2.0 header and SATA power connector. The USB connection allows you to control your fans lighting and speed via your Corsair iCUE software. The SATA connection powers the fans and the hub.
Installing the QL Series Fans
How do you install the Corsair QL series RGB fans? Well it might be simpler than it seems.
Firstly, you need to mount the fans using the including mounting hardware to your PC. After mounting, you have to run the fan wires to the included Node Core hub. Once they are connected to the Node Core, you just have to run the USB and SATA connects from the Node Core to your motherboard and VIOLA, they're installed.
Fire up your iCUE software, customize your LED effects and you're done!
iCUE QL RGB Software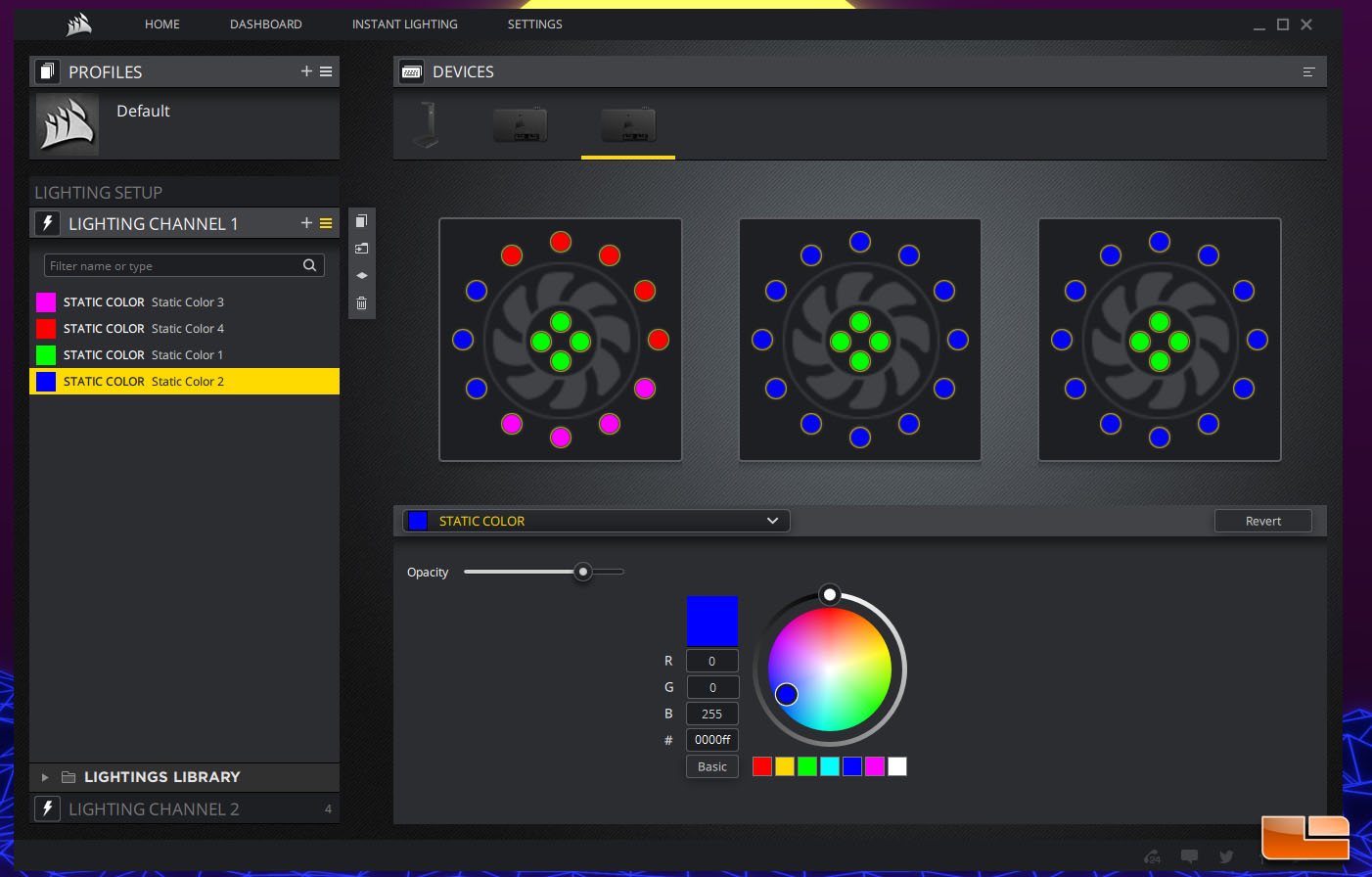 The Corsair iCUE software allows you to completely control your QL series fans along with other Corsair RGB fans. This gives you control over the lighting effects on each side and each lighting zone of the fans. iCUE can be downloaded here.
Additionally, the Corsair RGB fans should work with Asus Aura, Gigabyte Fusion, and MSI Mystic Light.
Performance
One of the best aspects of the Corsair QL series fans is their performance. Unsurprisingly, they perform extremely well.
The fans can push air easily throughout your chassis with speeds up to 1500 RPM. In addition, they supply up to 41.8 CFM of fresh air to your gaming components. The max noise level is around 26 decibels, but we found that they are in reality operate quieter. They have a self-lubricating hydraulic bearing that helps add to the low-noise performance.
Corsair QL series fans can also be used in an AIO water cooling (all-in-one water cooling setup) setup because of their strong static pressure properties.
The blades are a low-noise semi-transparent design. This design ensures that the fans operating quietly and efficiently. The semi-transparent blades allow for light to shine through, upgrading the RGB lighting.
Thermaltake Riing Quad RGB Fan
Are the Thermaltake Riing Quad series fans the best RGB fans for PC building?
Competing with the Corsair QL series is the Thermaltake Riing series, specifically the Quad RGB fans. The 120mm triple pack comes with 3 120mm RGB fans and TT RGB fan control hub.
Features
We'll start off the review with the featuers of the TT Riing Quad RGB fans. The Riing fans are equipped with 4 LED rings with 54 addressable RGB LEDs. These LEDs provide excellent coverage, uniformity, diffusion and brightness.
It is important to note that these fans do not have LED rings on both sides of the fans.
In addition to the powerful LEDs, Thermaltake includes some powerful software which we'll discuss later (TT RGB PLUS Software and App).
But, one of the biggest takeaways is that you can use these fans with ALEXA and RAZER CHROMA (Razer Synapse 3). These both allow you to control the lighting in unique ways and sync with other RGB components in your system. You can also use the Thermaltake ARTT app, TT AI voice control or TT RGB PLUS software to control these fans.
The Riing Quad fans design has performance in mind, focusing on a 9 fan blade design. Along with that, the fans feature a hydraulic bearing that is self-lubricating.
Installing the Riing Quad RGB Fans
How do you install the Riing Quad RGB fans?
Thermaltake has a video on how to install the Riing Quad 120 fans, and we'd highly recommend following the instructions.
But essentially, you need to hook all of the fans up to the included TT fan hub. After they are connected, you connect the hub to the motherboard along with power (very similar to the Corsair fan install).
Riing QUAD RGB Software
The NEONLIGHT Maker Software allows you to fully customize your Riing Quad 12 or 14 RGB fans. It has profiles and different timelines for full adjustment.
TT RGB PLUS Software is similar to the NEONLIGHT Maker, but gives you a full picture on fan speed and lighting. This software is necessary to control your fans and can be downloaded here.
Additionally, the Thermaltake Riing Quad 12 and Thermaltake Riing Quad 14 fans should work with Asus Aura, Gigabyte Fusion, and MSI Mystic Light software.
Performance
The Thermaltake Riing Quad 120mm and 140mm fans perform as expected. They are extremely powerful and premium feature packed RGB fans.
Lighting is nothing short of amazing on the Riing series fans. They look absolutely incredible with their 4 LED ring lighting zones. You control the lighting via the TT RGB PLUS software, NEONLIGHT MAKER software, app, ALEXA, RAZER CHROMA or automatically via your motherboard.
You can either choose to fully control your fans with the TT RGB PLUS software, or let your motherboard take full control of the fans. We recommend changing them yourself, but if you can sync them with your motherboard's software, it is helpful with temperature adjusting fan speed curves.
In addition to the lighting (which these fans are designed for), they are high-airflow fans. The Riing Quad 12 fans have speeds up to 1500 RPM and 40.9 CFM. The Riing Quad 14 fans have up to 60.17 CFM and 1400 RPM max. The engineering of the fans is for quiet operation without sacrificing performance.
Which Premium RGB Fan Should You Buy?
So should you buy the Corsair QL series RGB fans or Thermaltake Riing Quad series fans? Well, the answer might surprise you.
If you have unlimited money to spend, I would quite honestly use a combination of the two. I would use the Corsair QL series fans wherever you need lighting on both sides. Whereas, I would use the Riing Quad fans wherever you don't.
If you don't have unlimited money to spend, I would highly recommend looking at the Corsair LL series RGB fans. These fans are cheaper than the competition, have similar performance and are a fantastic alternative.
Budget RGB Fans That Rival Premium Fans
If you are interested in RGB case fans that are a bit cheaper, we have some options there as well! I wrote a great review a little bit ago of the best budget RGB fans, but the Apevia Arcane RGB Fans are our favorite.