The Samsung SWA-8500S Review is possible due to affiliates and readers, thank you!
When it comes to Samsung soundbars, there are a lot of options that are only 2.1 or 3.1 sound systems. However, if you want true surround sound you need a 5.1 or some other setup that is a full enclosure of side speakers and rear speakers.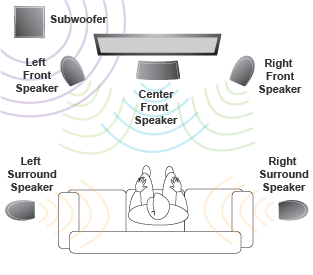 With traditional home theater solutions, you could just add more speakers to your receiver (as long as it supports more). But, with soundbars, you can't add speakers… or can you?
Well, in the Samsung SWA-8500S Review, we're taking a look at Samsung's solution to modular wireless rear speakers and if they're worth it for your setup!
Features
The SWA-8500S Wireless Rear Speaker Kit from Samsung is designed to be a modular experience that should add rear speakers to your existing Samsung soundbar. This means that you should upgrade from a 2.1 or 3.1 channel soundbar to a 4.1 or 5.1 channel.
Additionally, they claim that you should have a more immersive, clutter-free experience when setting up wirelessly. Which, yes, you theoretically will gain additional immersion into media content by adding surround speakers (either side or rear speakers).
Firstly, these speakers are a 2.0 solution, so they add 2-channels to an existing soundbar. And, they connect to your Samsung soundbar wirelessly via a hub. The hub then connects to the speakers with speaker wire. So, while you don't get a true "wireless" speaker, the actual setup is wireless and makes it a lot easier to hide cables.
The SWA-8500S speakers are capable of outputting 54 watts of power which is a pretty good amount for rear speakers. Each individual speaker can do up to 27 watts giving you an adequate amount of volume for surround sound. The actual housings are fairly compact with each being 3 inches by 3 inches by 5.7 inches. So, decently compact if you want to mount them in the corner of your room.
Additionally, Samsung includes very long 10 foot wires to connect your speakers to the wireless hub. As I mentioned before, you have to connect the speakers to the wireless hub with speaker wire. But, they include a generous amount of wire, so you can easily mount the speakers pretty much anywhere you need to. However, if that's not enough wire for you, you might want to consider more powerful speakers like the SWA-9000S series.
Finally, the SWA-8500S speakers are wall mountable. This means that you can practically mount them wherever you need to in order to fit the dimensions of your room.
Performance
As far as performance goes, the SWA-8500S Wireless Rear Speakers work pretty well for their size and compatibility. What I mean by compatibility is that for the soundbars that you would be adding these speakers onto, they work perfectly.
Anyone who wants a louder, more pronounced surround sound setup will get something more powerful like the Nakamichi Shockwafe. So, when it comes to sound quality, they are very clear. While you don't get a ton out of rear speakers as far as "full-time sound" goes. When they come on they do their job.
We did find that you should have to increase the speaker volume out of the box. Basically to do this you just have to hit the "sound control" button on the soundbar remote. Then, you're able to turn the speakers on/off. But, if you hit that button another time, then you can pull up the rear speaker volume control. We suggest going up to 3-4 depending how big your setup is (you can go -6 to +6 on the volume).
As for setup goes, they're 100% plug and play. With compatible Samsung soundbars, you just have to plug in the necessary cords and you're all set to go. It is very easy to setup even for people with little to no home theater experience.
SWA-8500S vs SWA-9000S
What is the difference between the Samsung SWA-8500S vs SWA-9000S? The SWA-8500S and SWA-9000S are very similar to each other, except that the 9000S is for Samsung Sound+ and Dolby Atmos Soundbars. Other than that, they're virtually the same specifications.
Samsung SWA-8500S Compatability
What are the products that are compatible with the SWA-8500S rear speaker kit (source)?
HW-Q70R
Q60R
R650
R550
R450
HW-Q60T
T650
T550
T450
S60T
Final Thoughts
We were pretty impressed with the quality and performance of the Samsung SWA-8500S Rear Speakers. They have a good amount of value when it comes to price, and they add a lot of immersion to your existing sound setup.
If you're looking for a simple, easy-to-setup and relatively powerful addition to your Samsung soundbar, then we'd highly recommend checking this rear speaker kit out!