Logitech Z906 5.1 Surround Sound Speaker System Review
The Logitech Z906 5.1 Surround Sound Speaker System Review is possible due to affiliates and readers, thank you!
When it comes to high-end surround sound systems, Logitech isn't typically a company you think of. While they do make systems like the Z606 Surround Sound System, they aren't expected to be crazy high-end like the Nakamichi Shockwafe 9.2.4 Surround Sound System.
However, when it comes to the Logitech Z906 5.1 Surround Sound System, things might change. While this doesn't directly compete with the Nakamichi Shockwafe, it does compete with several other surround sound systems.
With THX certification, Dolby Digital and DTS Digital certification, can the Z906 hold up it's own against the competition? Let's get into it!
Features
Starting off with the Logitech Z906 Speakers's main aspect, the 5.1 Surround Sound. Firstly, they have gotten Dolby Digital, DTS and THX certifications. While obtaining the certifications, each company puts the speakers through a variety of tests to make sure you're hearing the audio as it was intended.
Additionally, you should assume true cinema quality with 4 wall-mountable satellite speakers (67W a piece), one center channel speaker (67W), and subwoofer (165 watts). The system is capable of delivering a continuous 500 watts of power, with up to 1000 watts when needed. Which means that when the bass kicks in, the bass kicks in. This is a thunderous, incredibly powerful, and booming bass that will make you feel explosions.
In addition, the Z906 system doesn't come with a traditional receiver, however it does have a console that you can connect several devices up to. It allows you to use computer audio, headphones, auxiliary audio, RCA, six channel direct, coaxial input or optical input. You do loose some of the features that come with traditional receivers, but it is a fair trade-off (especially for the price).
With the compact console you can control volume, power, mute and input settings all through the wireless remote. Additionally, it can convert two-channel stereo audio from music or older content to an immersive surround sound output.
Each satellite has wires that support up to 6-feet away. And, the Z906 package comes with everything else you need to setup the system. However, if you need wall mounts, you need to get those separately!
Build Quality
If you've used Logitech equipment before, then you'll know that their build quality is typically second-to-none. In this case, the Logitech Z906 Surround Sound Speaker System is incredibly well built. It shows that you can get a high-quality build at an affordable price.
The materials used feel premium, and the woofers are covered with good speaker covers. Additionally, the actual wire quality seems pretty good although they are on the thinner side.
Performance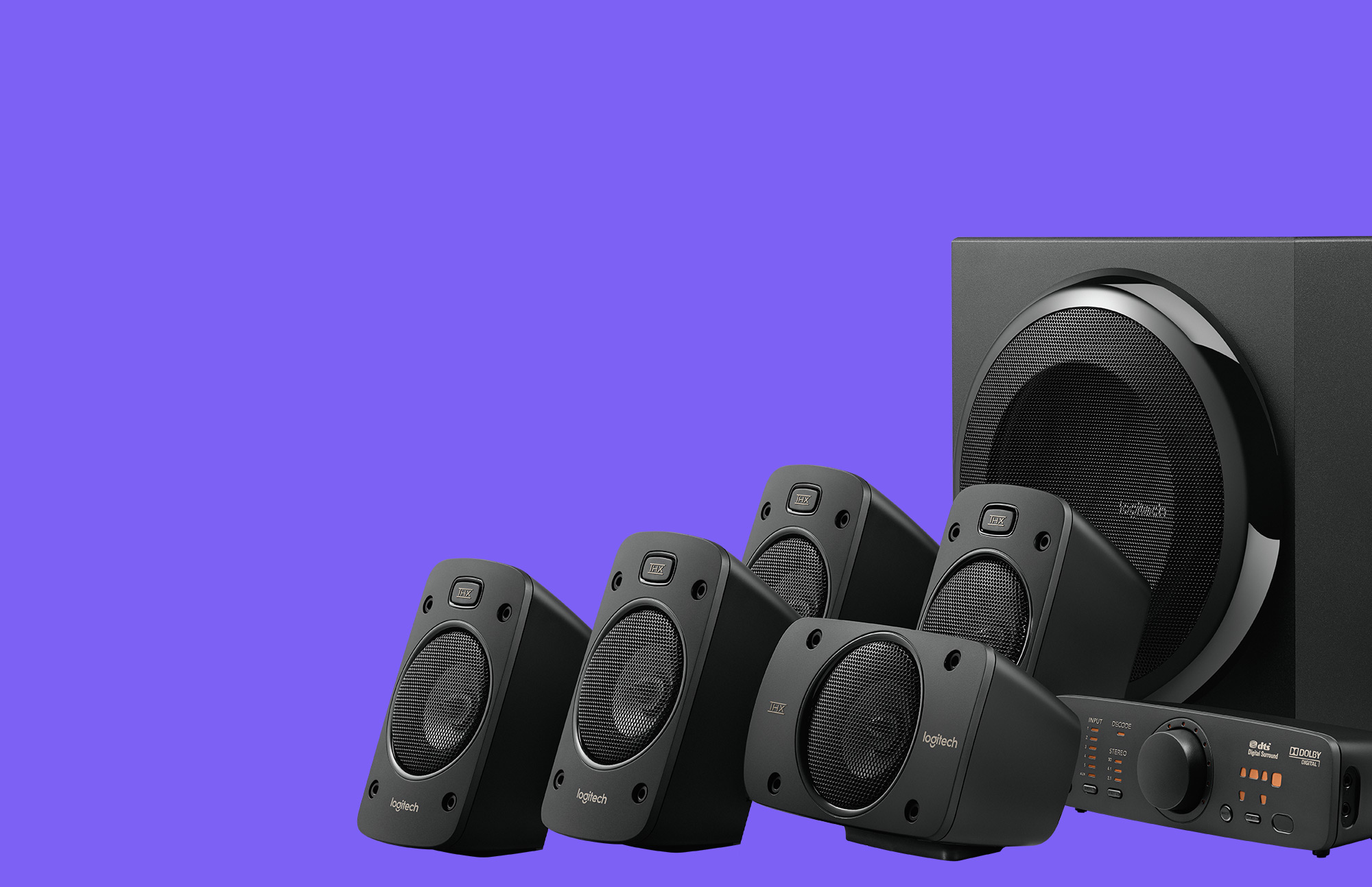 Performance or sound quality is where the Logitech Z906 reigns supreme. This is an incredibly great sounding, high-quality and powerful 5.1 surround sound system (especially for the price).
The subwoofer provides an immense amount of bass for it's size (8-inch woofer), and is incredibly punchy. All of the satellite speakers provide clear, crisp and loud sound without overpowering each other. The mids are pronounced and highs are crips. With the lows being very punchy and immersive.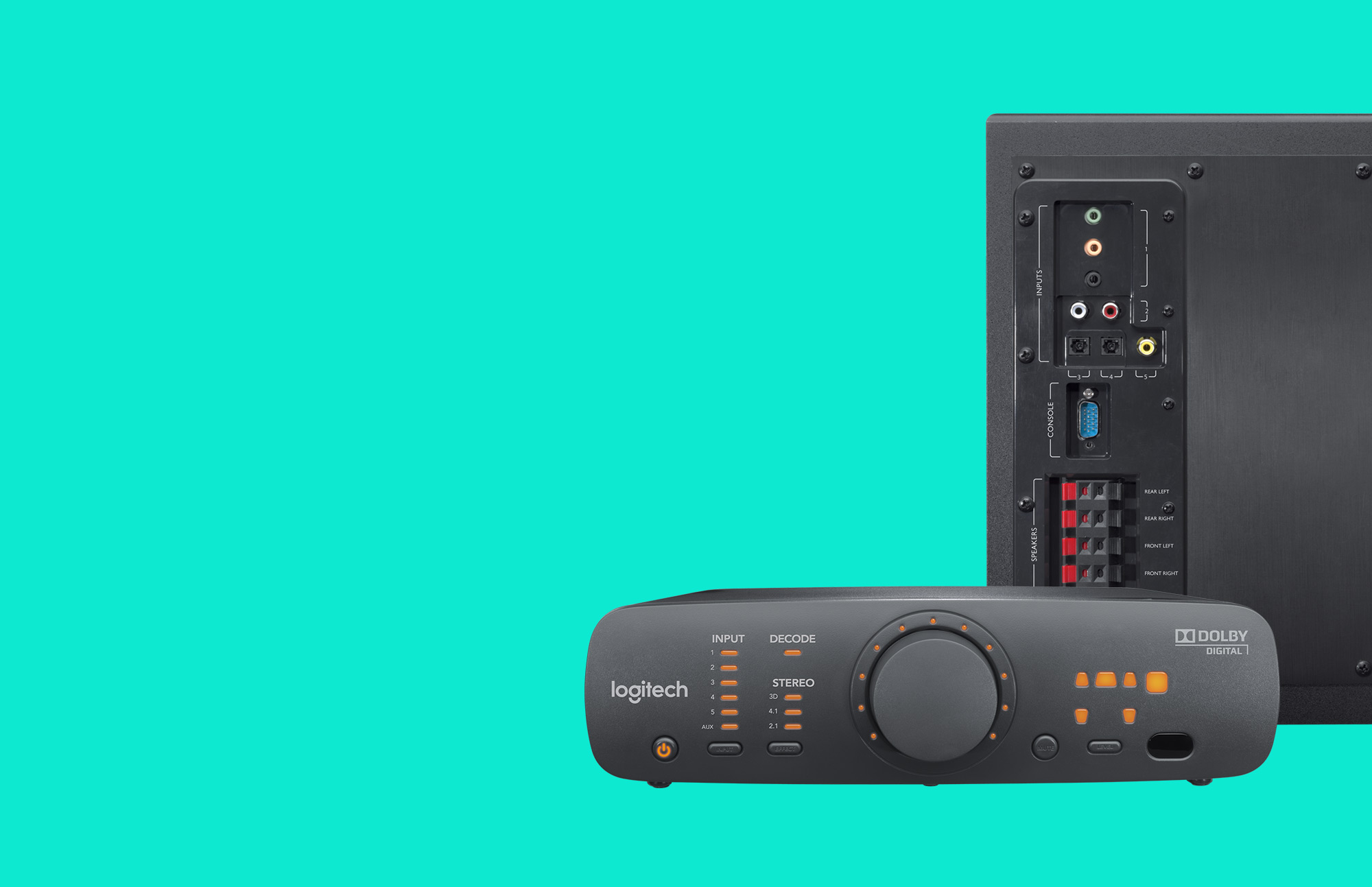 Installing the Z906 is fairly simple and just plug-in-play. You might run into problems when trying to wall-mount this system, however that's not Logitech's fault and more just a simple fault of the industry. Unfortunately, wireless satellite speakers are extremely expensive, so 6-feet of wiring should be enough for most people's needs. However, you can also get aftermarket wiring if you need more!
Final Thoughts
In conclusion, the Logitech Z906 5.1 Surround Sound Speaker System is one of our top choices if you're looking at something for an affordable price. You can drastically affect the sound quality and performance of your TV with a simple upgrade and it is 100% worth doing.
If you have never used external speakers on your TV before, you will be blown away by this surround sound system. The subwoofer is superb, satellite speakers are crisp and the setup is easy enough for most people. You should have this system up and running without much trouble.
Finally, the Logitech Z906 is an awesome choice if you're in the market for this type of 5.1 surround sound system! However, if you're looking for something a bit bigger, check out the Nakamichi Shockwafe 9.2.4. And, if you're looking for something smaller, check out our top choices for 2.1 Computer Speaker Systems!