Guide to the Best In-Ceiling Speakers
What are the Best In Ceiling Speakers Your Home? What are the best ones for music? Surround sound?
We're going to take a look at some of our top choices for ceiling speakers as well as answering your questions.
When it comes to in ceiling speakers, most people are looking for one of three things; a surround sound experience for their entire home, a music listening experience for their entire home, or the flexibility of playing music/sound throughout their home.
So, if you're looking for in ceiling speakers for your home, then you've come to the right place. In this guide, we'll be getting into features, performance and which ones you should buy for your setup.
Why Should You Install In-Ceiling Speakers?
In-ceiling speakers (built-in, pre-wired speakers) can increase the value of your home, elevate your entertainment setup, and create a very unique atmosphere.
Installing ceiling speakers can allow you to play music throughout your home or even set up an awesome home-theater setup. Either way, you'll definitely have something to show your friends, and the next time you have a party you won't have to worry if your speakers are loud enough.
Where Should You Put In-Ceiling Speakers?
Well, the obvious answer to where you should put in-ceiling speakers would be in the ceiling… In addition to the obvious, you can layer them throughout your home (typically on the first floor, entertainment rooms, or basement), to create an atmosphere.
Placement of ceiling speakers is vital, especially where space or budget is a limiting factor. However, with just a few (usually around 4-6 speakers), you can create an awesome whole-home setup.
What Are The Best In-Ceiling Speakers?
Bose Virtually Invisible 791 In-Ceiling Speaker II
When it comes to the Bose Virtually Invisible 791 Speakers, you really can't go wrong. Although Bose does stand for "buy other sound equipment" (just kidding – it doesn't actually mean that), we highly recommend these ceiling cones from them.
They have a 7-inch woofer built-in along with two 1-inch tweeters. While the tweeters aren't fully adjustable, they have been positioned in such a way that you shouldn't ever have to mess with them!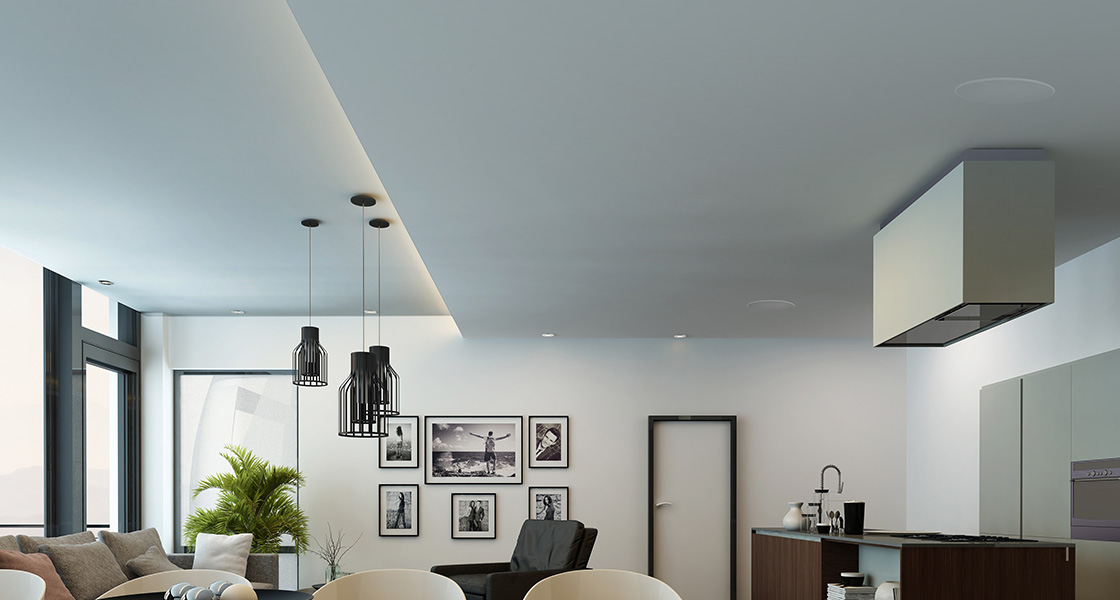 Additionally, Bose claims that their "Stereo Everywhere" performance should cover any room with balanced stereo. And, it should have no sound drop-offs.
Bose also uses a virtually bezel-less design. This means that you can simply blend your speaker into the ceiling fairly easily. They include dogleg clamps and magnetic grilles to help improve installation speed. You can also take on or off the grille shields whenever you need to!
Sonos In-Ceiling Speakers
Next up is the Sonos In-Ceiling Speakers designed by Sonance. These speakers were specifically designed for an ambient listening experience (whole room). You can easily fill your rooms with very clear and powerful sound.
In addition, you're able to use these Sonos speakers with the Amp and get the entire experience (including Trueplay tuning). Trueplay and Amp allow the speakers to account for the size, construction, layout and spacing of your room. This lets the speakers adjust and tune themselves for your specific setup.
Sonos also designed specific speaker grilles for the drivers. Depending on what type of shape you want, you can get either round or square covers that can be painted to match your ceiling's color.
One of the coolest features with the Sonos setup, is the ability to add other speakers or subwoofers. They're pretty much fully modular and easily support upgradability.
Polk Audio RC80i In-Ceiling Speakers
Next is the Polk Audio RC80i In-Ceiling Speakers and Subwoofer Combo! This kit is unique because it comes with a powered subwoofer along with the traditional ceiling speakers.
Polk Audio is a highly sought-after audio company because they make great stuff. And the RC80i kit is no exception. Each of the in-ceiling speaker woofers are 8-inches with a 1-inch tweeter. These drives are absolutely massive for ceiling speakers. In addition, the subwoofer included is a 12-inch monster that delivers up to 460 watts of power (PSW505).
Additionally, setup is extremely easy. You can install these speakers in just a few simple steps. And, they also use their rotating cam system to ensure a vibration free secure install.
As far as sound goes, the subwoofer is incredibly powerful. The ceiling speaker drivers are very clear, crisp and still very powerful. The front grilles are magnetically detachable and have a shielded portion to avoid noisy lines.
In conclusion, the Polk Audio RC80i Speakers are an incredible value for technology, sound performance and easy installation.
Klipsch CDT-5800-C II In-Ceiling Speaker
The Klipsch CDT-5800-C II In-Ceiling Speaker is up next on the list of the best in-ceiling speakers.
Klipsch has already shown up on the list, and it won't be the last time. In the CDT-5800 II's, they use a 1-inch titanium tweeter with an 8-inch cerametallic woofer. This means that you can easily direction these speakers so you can pretty much position them wherever they are needed.
Additionally, they use Klipsch's Controlled Dispersion Technology and have treble, mid and bass attenuation switches.
Yamaha NSIC800WH In-Ceiling Speaker
The Yamaha NSIC800WH 140-Watts 2-Way RMS Speakers are other great options if you're putting speakers in your ceiling. Firstly, they come in a few different models; 140 watts, 110 watts, and 90 watts (however, we highly recommend the 140 watts version).
So, the 140 watt speakers have an impedance of 8 ohms, and a depth of 4.3-inches. They are a dome-type driver with a physical diameter of 10.9-inches. Additionally, the Yamaha NSIC800WH speakers feature a slim profile for the easiest flush in-ceiling or wall mounting.
The back portion of the drivers are sealed to protect against any dust, moisture or other contaminants. In addition, the grills are paintable, cones are made from polypropylene mica (high performance mid/lows), and a grain-finished acoustic baffle for natural sound dispersion.
Klipsch CDT-3650-C II In-Ceiling Speaker
The Klipsch CDT-3650-C II In-Ceiling Speaker's are awesome value home speakers for the price. They provide an excellent sound signature, performance, and ease of installation.
Klipsch uses a 1-inch aluminum tweeter along with a 6.5-inch pivoting IMG woofer. They also use their Controlled Dispersion Technology to ensure a natural sound signature. In addition, they use treble attenuation switches for maximum benefits.
The CDT-3650-C can easily be integrated into a whole-house audio system, Dolby Atmos theater or even a simple bathroom speaker setup. However you choose to use them is up to you, but they're great for pretty much all of the rooms in your house!
PYLE PDIC81RD Round Wall and Ceiling Home Speakers
The Pyle PDIC81RD Round Wall and Ceiling Home Speakers are an incredible value for 1000 watts of power (250 watts per speaker, 1000 watts per 2 pairs of speakers).
They feature a 8-inch midbass driver with a 1-inch high-temperature voice coil. The tweeter is a 0.5-inch directional polymer dome. The Pyle PDIC speaker system is able to be installed either as wall or in-ceiling speakers. And, achieves an incredible range of sound performance.
Final Thoughts
In conclusion, when it comes to the best in-ceiling speakers, there is a lot to consider. However, our top choices are from Bose, Sonos and Klipsch. From value (price to performance), design, and ease-of-use, we highly recommend one of these brands.
If you're considering a home improvement project, creating a home theater, or installing whole-house entertainment, then in-ceiling speakers are an excellent investment to make.